Mountain Bike Rides Around South Hampshire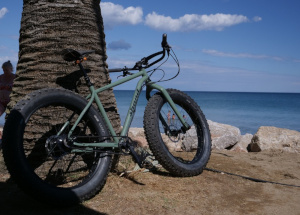 What's here:
This page hosts a collection of GPX tracklogs from my off-road mountain bike rides. Most are in Hampshire - mainly in the south. The range is widening as I run out of bridleways near home, so some rides stray into West Sussex and Dorset. I compiled this page so that I could record my rides and re-visit good ones from time to time. I would welcome any feedback from passers-by, particularly if you have suggestions for routes in this area.
All the rides are legitimate; that's to say they all use public rights of way or permissive trails where bikes are allowed, including bridleways, BOATs/Restricted Byways - and as little road as possible. They are all circular and the start point is generally a free car park or lay-by unless stated otherwise.
I've also put up a Search & Upload page to allow visitors to search OS maps and view their GPX track files on Ordnance Survey, IGN (France), and Google maps.
See also my Non-Hampshire Mountain Bike Rides page.
Hampshire Ride Files
You can:
View the rides on live Ordnance Survey maps
Toggle the map between OS and Google Maps (good for viewing satellite images)
Right-click & save the GPX files for your own use
| Ride | Description | Miles Total | Miles off road | Climb Feet |
| --- | --- | --- | --- | --- |
| Pepperbox Hill Show Map GPX | East of Salisbury clockwise. Some good tracks and bridleways with stunning views. Takes in an old Roman road on the northern edge. The climb up the final hill on the return leg was tough. It was a freezing cold January morning when I did this - I waited in the car park until the sun was up enough to ride. I spent the first few miles just getting warm, but my feet had turned into ice blocks by the end. Reminder to self: buy some warm boots next winter! | 24 | 13 | 2275 |
| Farley Mount Show Map GPX | West of Winchester clockwise. This one came from the cycling site of Hampshire County Council. They describe it as challenging, but I found it pretty straightforward. | 15 | 6 | 1290 |
| Cocking Down Show Map GPX | North of Chichester clockwise. This one is straight from the March 2006 issue of MBR magazine. They describe it as easy. Hmmph! I did OK up the first evil hill but ended up pushing on the return leg. I found this one quite tough, to be honest. It was raining throughout and very muddy, so perhaps I'll try again in the dry and see if can wimp out less. | 15 | 11 | 2120 |
| Petersfield Show Map GPX | West of Petersfield anti-clockwise. Another from HCC. It uses the railway station car park which may require a payment. They describe this as one of their most challenging trails. It is a cracker, and well worth the initial off-road hellish hill (more pushing!). Some great descents and stunning views. | 16 | 7 | 2120 |
| Sparsholt Show Map GPX | West of Winchester clockwise. Another from HCC. I didn't have time for the full version, so planned a 19 miler which turned into 21 due to my messing up the route start by getting the GPS start point wrong. I got lost, used the GPS to get a quick fix, then did a loop back to the car park and started again. Easy ride, not too hilly, pleasant rather than exciting. Oxdroves and bridleways make for easy riding in dry weather. | 21 | 14 | 1180 |
| Alresford Show Map GPX | North of Alresford anti-clockwise. Some scenic country lanes around Itchen Abbas. The off-road bits are mainly oxdroves and bridleways with great views over the Hampshire countryside. The NE section was very muddy. If it hadn't been for the mud, I would have described it as an easy ride. | 19 | 11 | 1320 |
| Whitchurch Show Map GPX | North of Whitchurch clockwise. Another from HCC. The car park is actually a lay-by on a quiet road. Steady hills, the views from the top of which are stupendous. Easy surfaces unless it's been raining, when some of the field paths - such as the Portway Roman road section - can be heavy going. I chopped off the last bit of the suggested route to stay on the Portway and was rewarded with a final downhill sprint to the car park. | 22 | 14 | 2010 |
| Fordingbridge Show Map GPX | North west of Fordingbridge anti-clockwise. Breamore House is spectacular. Some good gnarly bridleways and lovely muddy tracks. Steady climbs, nothing too leg-breaking. I detoured slightly near Martin Down National Nature Reserve on the home leg. Taking a break at the top of the hill near Grim's Ditch overlooking miles of stunning Hampshire countryside made the ride for me. | 21 | 12 | 1200 |
| Bramdean Show Map GPX | South of Alresford clockwise. Tougher than I'd expected. Muddy rutted tracks and some testing long climbs challenged my early-morning stamina. The first mile looking over Wheely Down provided the best views of the ride. Saw some deer in Cheriton wood, the sight of which always makes mefeel privileged to be there. | 18 | 10 | 1550 |
| Compton Show Map GPX | North east of Havant clockwise. Hilly and varied with stunning scenery. Probably the best views of all the rides so far. A bit of the good old South Downs Way thrown in for good measure. Some steep climbs and glorious descents. The car park opposite Stansted House was locked at 07:30 on a Sunday morning, but a man came soon after and opened it up. It doesn't officially open until 08:00. | 19 | 16 | 1480 |
| Morn Hill Show Map GPX | East of Winchester anti-clockwise. More roads than I'd have ideally liked, but we were staying at Morn Hill camp site (there is free parking for non-campers on the road by the pub) and I wanted a circular route centred on the campsite. The less popular bridleways were heavily overgrown, so my arms and legs were well and truly slashed by brambles and stung by nettles while forcing my way through. I had to stop to clear plant debris from the mechs and discs, which made for hard going at times. The Army firing range at Chilcomb was clear for public access, so I nipped over for some fine views over Fawley Down. | 22 | 13 | 1890 |
| Cheesefoot Head Show Map GPX | East of Winchester anti-clockwise. Another from HCC. They claim 17 miles off-road, but it's more like 13 - the roads bits are very quiet, though. I did this one last year before I had a GPS, so I tried it in the reverse direction this time. The tracks on Fawley Down are rather overgrown in summer but they do have wonderful views. Beacon Hill is a long slow grind to get up, but the South Downs Way back to Cheesefoot car park is easy going, apart from the minor nuisance of having to stop for the numerous gates en route. | 19 | 13 | 1580 |
| Stoughton Show Map GPX | North east of Havant clockwise. Overlaps with some parts of the Cocking Down ride. Can't believe it was raining this morning. Some good hills at the start with some quite testing climbs. Nothing vaguely technical on this one - all the bridleways were clear and easy going - but very pleasant nonetheless. Cracking descent at Hayes Down overlooking a vast expanse of countryside. | 20 | 12 | 1800 |
| Middle Wallop Show Map GPX | West of Stockbridge clockwise. This is loosely based on the HCC Danebury ride which I did last before I had a GPS. The Danebury ride was a bit longer but uses the rather flat and uninspiring Test Way. So I used the good bits from that ride to make this one. Some good climbs with rewarding views over the countryside, particularly around Broughton Down. Most of the tracks were heavily overgrown but very rideable. In winter, some of the byways were hard work - heavily rutted with vehicle damage and full of water which hid nasty lumps. In summer though, I could see where I was going and happily bounced my way through all obstacles. | 20 | 14 | 1560 |
| Aldridge Hill Show Map GPX | West of Brockenhurst anti-clockwise. We were camping here for the weekend and I wanted a ride. I love the New Forest, but I have to say it doesn't offer much to MTB enthusiasts. There are miles of official cycle tracks but they are all so family-orientated as to be too bland for real MTB fun. Still, it's pleasant to just pootle along the trails from time to time, and the abandoned railway line on the southern edge has some fine views. | 18 | 10 | 780 |
| Chawton Park Show Map GPX | North of Four Marks clockwise. Most of this is off-road. I hardly saw a sole for the whole ride. Some of the byways were so rutted in parts as to require a bit of pushing, but most were very rideable. Although not too hilly, there were some short sharp climbs and some good singletrack-like sections here and there. This ride is tougher than you might think - I had jelly knees by the end of it. | 24 | 18 | 1440 |
| Denmead Show Map GPX | North of Denmead anti-clockwise. This ride uses the back half of the HCC Horndean ride, which I did pre-GPS. My ride extends it to take in a few miles of the South Downs Way going past the stunning scenery of Old Winchester Hill. The return leg includes a stretch of the Meon Valley railway track - arguably too flat for real MTB fun, but a welcome respite for a couple of miles after some of the tough hills earlier. The road bits joining the offroad sections were very quiet, making the whole ride virtually traffic-free. Some of the bridleways and tracks were very narrowed down with growth, but it's not a real ride unless you draw a bit of blood from a few brambles. | 25 | 16 | 1665 |
| Durford Heath Show Map GPX | North east of Petersfield anti-clockwise. Boy, this was tough. I'd planned a much longer one having seen the glorious collection of bridleways around here on the map. What I didn't know is that much of this area off-road is fine wet sand; this doesn't just slow you down, it actually brings you to a dead halt as the tyres dig in. Lots of pushing and lots of hills. After 24 or so miles I bailed out and headed back on the road. But there was plenty of rocky singletrack action and some great climbs and near-vertical drops so I'll definitely be back for more around here. Just not so long next time! | 28 | 15 | 2480 |
| Hazel Down Show Map GPX | North west of Stockbridge clockwise. This ride pinches a few miles from the Farley Mount and Sparsholt rides. Apart from getting thrown off down some rutted tracks, this was plain sailing with only a couple of steep climbs. During planning, I hadn't noticed that the permissive bridleway near Testcombe doesn't quite join the road. Getting to it requires walking down a few yards of footpath with a nip across the corner of the Radio Telescope field to a handy hole in the hedge. Local dog owners seemed to be walking there too, so I hope I wasn't trespassing! This was a pleasant keep-in-trim sort of ride rather than a belter. | 24 | 16 | 1370 |
| West Moors Show Map GPX | North of Bournemouth clockwise. We were camping at Oakdene, so I was restricted by what I could get locally, which wasn't really very much. The bridleways were quite sandy in parts (requiring a little pushing) and there was way too much road work. The forest bits (Moors Valley & Hurn Forest) were pretty but all wide fire trail stuff. Chalk this one up as training miles. | 25 | 13 | 680 |
| Owlesbury Show Map GPX | East of Winchester clockwise. It's not often you can go on a ride and see wallabies. This ride includes a bridleway adjacent to Marwell zoo which gives a great view of the animals, depending on the time of year. Today most were out of site tucked up keeping warm. On the whole, this was very hilly and very muddy. The track from Marwell to Owlesbury was so horse-damaged and boggy as to be a push job all the way. Great ride, but it would be better in summer. | 18 | 12 | 1890 |
| Medstead Show Map GPX | North of Four Marks clockwise. Starts off the same as the Chawton Park ride. I'd intended to do about 27 miles, but it was a serious mudfest today. After 16 miles of low gear thrashing, my legs were getting very tired around Upper Wield, so I took the road back (managing to go the wrong way initially). Roll on summer! At least the new bike has had a good christening - it took ages to clean afterwards. The winter tyres were excellent for grip in the mud. Without these I'd have been walking for most of it. | 24 | 16 | 1865 |
| Harting Down Show Map GPX | NE of Havant anti-clockwise. Some tough hills - I was amazed how much difference a seat dropper makes on the climbs. Having it higher than normal position let me stay pedalling where otherwise I might have pushed. But there was still plenty of pushing; this is the hilliest of all the rides by quite a margin. Cracking ride which overlaps some parts of the Cocking Hill ride, but done the other way around. The South Downs Way is very spectacular in these parts, and is definitely worth all the effort. The only downside is that this whole area is very popular with hikers, so the fast descents were a bit hampered by having to slow right down from time to time. | 23 | 19 | 2748 |
| Colden Common Show Map GPX | South of Winchester clockwise. Parked in Marwell Zoo car park. I planned a short one with more road than normal as I was still getting over a strained back muscle and didn't want a killer. The bridleways in the Marwell area are so muddy and horse-damaged as to be almost unrideable this time of year, but the rest of the ride was mostly OK. Compton Down is spectacular, as is the view from Twyford Down looking toward St Catherine's Hill. Shame a dirty great motorway carves up the landscape - the traffic is audible for quite a distance away. | 22 | 8 | 1570 |
| Frogham Show Map GPX | East of Fordingbridge anti-clockwise (uses the Breamore section from the Fordingbridge ride). I generally avoid the New Forest cycle paths as they are too uniform and flat to be of interest to MTBers - but as this was a wet misty day, I thought the Frogham to Fritham path would make a welcome change from fighting boggy bridleways. Not many hills, but still plenty of boggy mud on the non-Forest bridleways. I startled a herd of about a dozen deer in the woods at Cloven Hill on the eastern extremity of the ride. Best views today were on the hills NW of Breamore. Nothing technical about this ride - I was aiming to avoid bogfest stuff, hence more road work than usual. | 29 | 15 | 1470 |
| Cheriton Show Map GPX | East of Winchester clockwise (uses sections from Cheesefoot, Bramdean & other rides). I was trying to find some unridden bridleways over hilly open land to avoid mud dragging, so I joined the gaps from various other rides starting at Cheesfoot Head. No joy on avoiding the mud though; this ride was tough due to much of the offroad sections being seriously boggy and hence very hard work indeed. Good bit of pushing towards the end as the legs tired, but I will definitely revisit this one in the summer as the views were fabulous over the South Downs. | 23 | 18 | 2150 |
| Corfe Castle Show Map GPX | Anti-clockwise. OK, so this is Dorset, but it's not far from Hampshire :-). Cracking ride with a bit of everything, tough climbs, great descents, singletrack, technical stuff and amongst the very best views on the South Coast. Well worth the drive. Conditions were very good, making it a great ride. | 18 | 15 | 2195 |
| Vernham Dean Show Map GPX | Vernham Dean Clockwise. Good hardpack trails for virtually all the ride. A little too much road in between for my taste, but a very pleasant ride. Nothing technical, but there were some good rooty descents and wonderful panoramic views. The track through the hills at Hippenscombe felt truly ancient - the kind of vibe you get at places like Glastonbury. | 24 | 13 | 1890 |
| Isle of Wight Show Map GPX | Anti-clockwise. Caravan holiday at Newbridge. The island claims nearly 200 miles of tracks and bridleways plus a ton of hills. The views are as good as the Purbeck ride and there is virtually zero traffic off the main roads. We'll be back for more of this for sure. I'd planned a second ride but did my back in once again, so one ride had to do for this trip. | 30 | 23 | 2240 |
| Durdle Door Show Map GPX | Clockwise. Caravan weekend in Dorset. Great views of the sea spoiled only by low cloud closing the horizon down somewhat. I missed a turn on the last leg so we ended up doing a little more road than originally planned, but as we were battling gusty head winds we decided not to double back. | 22 | 15 | 1790 |
| Cheesefoot Revisited Show Map GPX | East of Winchester anti-clockwise. The rifle range at Chilcomb had the red flags up so I had to make a detour, and Whiteshute Lane was blocked by two fallen trees. Also, the recent abnormal rain and horse damage made some of the bridleways boggy around Marwell, as usual. It's July, and I'm still pushing through mud! Still a fine ride though, despite traditional summer nettles and growth nearly filling some of the trails. I had nicely zinging legs by the end. | 28 | 21 | 2815 |
| Whiteways Show Map GPX | North of Arundel clockwise. Getting further from home in the search for new rides. Whiteways car park is a popular spot - but once away I met hardly a soul apart from the SDW sections which are always popular at weekends. The views from Bignore Hill and around Houghton are truly spectacular. Good hardpack most of the way, but some of the wooded tracks look like they might be very muddy in winter. Had to backtrack at one point when the track I planned to use turned out to be a footpath and not a bridleway as marked on my map. | 27 | 23 | 2640 |
| Cheesefoot MTBBritain Show Map GPX | East of Winchester anti-clockwise. Cracking day. It was reasonably non-boggy this time, which makes a nice change. This was more or less the same as the previous ride but slightly shorter as I was pushed for time. Great views over the downs and some good climbs as usual around here. | 22 | 17 | 2600 |
| Graffham Down Show Map GPX | North west of Arundel anti-clockwise. A figure-of-eight with the SDW in the middle. I often find the adjacent tracks quieter and more interesting than the SDW itself, and so it proved today. Hot day but slippery with clay, mud and moss. I'd planned a 24 miler but got caught short with my tubeless rear tyre going flat followed by some bad tubes which also went flat, so I lost a lot of time and had to cut it short. Very hilly indeed around here, will be back for more when I get the tyres sorted. | 16 | 15 | 2210 |
| Moors Valley Show Map GPX | North of Bournemouth clockwise. I was expecting this to be easy as it is rather flat in these parts. However some muddy trails and a few unexpected climbs made this a proper ride rather than just a run out - nothing even vaguely technical, but a decent ride anyway. There are lots of horse stables around here, so the bridleways were boggy and sticky. Car parking at Moors Valley is expensive so I will avoid this as a start point if I come over this way again. | 26 | 20 | 1780 |
| Milborne St Andrew Show Map GPX | Milborne St Andrew in Dorset going clockwise. Very pleasant XC loop with a good killer climb at the start of the first offroad section. The muddy fields made the climbs seem tougher, but there were some great speedy bits as reward. Cracking views over the Dorset countryside and good company made this well worth the drive. | 22 | 13 | 1710 |
| Whiteparish Show Map GPX | East of Salisbury clockwise. Shares parts with the Pepperbox Hill ride and starts at the same place. I wanted to check out the trails I hadn't seen last time. More road work than usual, but it was hard to get a circular loop. Cracking ride, but would be better in summer. It was freezing fog so I missed the great views, and there was a lot of ice which did at least keep the gloopy bits manageable as they were frozen solid in places. I wouldn't do this on a wet day as many of the trails would be unrideable. It felt tougher than the stats suggest, probably due to dragging though mud. | 27 | 18 | 1970 |
| Kingsclere Show Map GPX | West of Basingstoke anti-clockwise. This route was very clear with no obstacles or tricky bits of any sort. But it was very muddy in parts today which sapped the stamina and enjoyment somewhat - I had to push a few times. The start point is shown as a car park on the OS map but is actually a layby. This was a very quiet route, but then it was a Friday morning. I wouldn't class it as a great ride, but it would make a good fitness-improver or fast XC blast in the summer. N.B: The 1.4 mile section running N/S near Basingstoke is shown as a footpath, but is actually a wide farm road used by local vehicles so I didn't eel too guilty using it! | 26 | 20 | 1900 |
| Butser Hill Show Map GPX | North of Portsmouth anti-clockwise figure of eight. First new ride of the summer (after doing a few repeat rides which I didn't bother posting). Butser Hill Car park was a good start point. I've done much of this ride on other rides but found some new tracks today which were excellent - some really quick descents and some tough climbs made this feel tougher than it really was in both distance and ascent.. | 18 | 13 | 1640 |
| Butser Hill 2 Show Map GPX | Tried out some previously unridden tracks this time to ring the changes a bit. Excellent ride, quite tough hills, and tired legs this evening. A bit more road than I normally like, but it was the only way to check out the new sections. | 23 | 16 | 2130 |
| New Forest loop Show Map GPX | Monster loop getting up my fitness up. I had forgotten how pleasant the Forest can be. Easy riding on firm, maintained paths for the most part, but I was pretty tired at the end but pleased to have clocked up so many miles. | 57 | 46 | 2030 |
| Walbury Hill Show Map GPX | South-west of Newbury anti-clockwise. I wanted to try somewhere new, and as Walbury Hill is the highest point in southern England, it seemed a good idea. It started well enough, but sadly much of the ride was on byeways, which is a code word for "so heavily rutted by vehicles as to be almost unrideable". Good views, but too much pushing required to avoid falling into monster ruts. I'd planned longer but got fed up with the pushing and cut it short. If I come back this way again I will stick to bridleways. | 20 | 16 | 2160 |
| Arundel Show Map GPX | North of Arundel clockwise. I've done the South Downs Way bits of this before, but most was new. A definite for the summer as the view are fabulous. However much of it was muddy and very hard work today, particularly the low-lying sections near the river - it felt a lot harder than the stats suggest. The Roman road section (Stane Street) was a strange experience. Much of the raised road and flint sub-surface is clearly visible - it felt odd to be riding on the remains of the main London to Chichester highway. I wondered what stories have been lost forever in its 2000+ year history. This unexpected close brush with antiquity made the ride for me. | 16 | 14 | 2100 |
| Isle of Wight Show Map GPX | Isle of Wight anti-clockwise. Most of this was taken from the long-gone "Isle of Wight extremists" cycling site. I took a day trip on the ferry as a foot passenger (bikes go free) just for a change of scene. The Island is very hilly, especially off-road and I was very tired at the end. Good offroad scenery and cracking sea views in the south part. Not a technical ride, but a good day trip on a sunny day. | 42 | 31 | 4735 |
Portable GPS units: why bother?

Having spent some time evaluating and using a GPS with a mountain bike, I thought I would summarise my findings to date for anyone interested. First of all then, why bother at all with a GPS when you've been getting around fine for years with an OS map? Here's some reasons:
No more map-reading stops - well, hardly any! Provided you have previously created and uploaded the planned route to your GPS, the machine will clearly signal where to go for each leg of the ride.
Free your mind! No more worrying about which turn to take next. You can literally follow the machine around the whole ride. Once you learn to trust the GPS, you find you almost don't care where you are, because you know the machine will guide you. This is very liberating.
Have you ever inadvertently taken a wrong turn and found yourself a long way off track? The GPS will give you early warning of such deviations.
On better models, you can see exactly where you are on built-in maps.
The machine will record your journey as a tracklog. On your return home, you can download the tracklog, load it into your mapping software (or use this site) and see exactly where you went.
You can pull off accurate speed & distance stats.
You can download and use other people's rides.
No more annoying flapping map pouch on the handlebars or fiddling around with a stupid rear map pocket which is inaccessibly covered by your bag.
So what do you need?
A weatherproof sturdy GPS unit.
A handle bar mount for the unit, often available as an extra.
Software to create a route as a GPX file (more on this below).
A means to upload the GPX route to the GPS (e.g. via simple file transfer using a USB cable).
Hold on though, can't a smartphone do all that?
Yes, if you're so rich that an expensive phone leaping out of its mount and smashing to pieces doesnt bother you. The main problems with using bar-mounted phones are:
Add-on waterproof cases are a bit rubbish and are prone to steaming up and being unreadable in bad weather.
Phone batteries will soon die on a long ride if you have the screen on all the time. And if you allow the screen to turn itself off, then you have to stop and fiddle for navigation checks just like the bad old days of using paper maps.
Phones are not rugged! A small tumble will likely knock it out of its mount and smash it to pieces - or at least smash the screen.
For me, the fear factor of smashing a phone up or losing it actually impinges on the enjoyment of the ride. I much prefer the peace of mind afforded by a rugged GPS unit on the bars with an additional safety loop strap round the bar for when - not if - it gets knocked or jarred out of its mount.
GPS on the cheap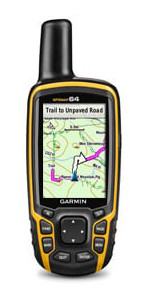 I bought my first GPS - a Garmin Etrex - second-hand off Ebay and used it for several years before I upgraded. It was an old model, but still accurate enough. It had a large arrow which pointed where you need to go - simple but effective. Modern units have built-in maps - even OS maps on the more expensive ones. I bounced my Etrex over rocks and lumps big enough to loosen dental fillings, and it took it all in its stride. My current model is a Garmin GPSMAP 64 which I bought for the mapping feature and increased storage for longer rides. I'm not bothered about heart rate monitors and other gadgets on more expensive models, so the GPSMAP 64 still does me fine.
Which maps to load into your GPS unit? For Garmins with .IMG format maps, I can personally recommend the-thorns.org.uk. His maps provide full detailed UK coverage at a very reasonable price. They are almost as good as OS maps but at a fraction of the price. For UK, Spain and France maps I can also personally recommend Talkytoaster. Garmin IMG files from these two sources have kept me on track for many years now.
GPS mapping software
Software maps makes the whole operation a no-brainer. You simply click out the waypoints, save as a GPX file then upload it to the GPS. Job done. There is a wide range of software out there which supports this kind of thing. Which one is best for you will depend on the depth of your pocket and your specific needs. Here's some of the various packages I've played with, or at least looked at:
| | |
| --- | --- |
| Name | Description |
| GPSBabel | Converts waypoints, tracks and routes between popular GPS receivers and mapping programs. If this can't convert it, chances are nothing can. Freebie but donations accepted. |
| GPS Utility | Shareware with limited Freeware version. Add your own map images. I found the size restriction on the map image files made the free version too limited for me, but YMMV. |
| GPS Trackmaker | Basic version is free. There is also a commercial Pro edition with a few more features. Add your own map images. I used this for my first few rides years ago. It's a little idiosyncratic, the help is patchy and many of the features are non-obvious - but it did me proud for while. |
| OziExplorer | Not tried this one but it seems to have a loyal fan base. Add your own map images. |
| Anquet | OS maps and software. Long-established company. |
| MemoryMap | OS maps and software, another respected name in the game. |
| Ordnance Survey | The new kid on the block (relativley speaking) and my personal favourite. I use it all the time to plan rides. It's available for a very reasonable annual subscription and has all the basic features needed for creating and viewing GPX files. It runs on phones too, and because it allows offline you can use your phone as a backup navigational device. |
A final word of warning
My advice (having learned the hard way) is not to rely on just one GPS unit. I also have tucked away in my backpack a GPS app on my phone with my current route loaded up which will work where there is no internet. I'm mostly exploring new areas so I'm usually not familiar with the area I'm riding in. So I also have a pocket compass with me and often carry a paper map too, especially when abroad. GPS is not infallible! I have had problems with:
Missing signals caused by dense foliage.
Batteries running out - I always carry spares now.
Idiot user problems due to cold winter fingers - I once accidentally deleted the entire route while fiddling.
Confusing, hidden, incorrectly-marked or even blocked rights of way forcing a re-think of the route.
The bottom line is this: do not rely on a single GPS unit to get you around your planned route. In a previous career, I was a professional mariner - the same principles used to apply on merchant ships. We'd use the GPS on a daily basis but we had other means of position fixing to hand just in case.