Other Mountain Bike Rides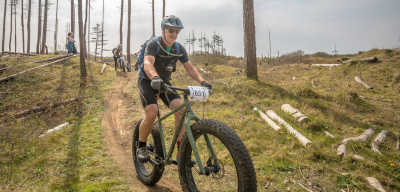 This page hosts a collection of GPS tracklogs from some of my my off-road mountain bike rides. These are records of rides I have done when on holiday or otherwise well and truly away from my home on the south coast of England.
You can:
View UK rides on live Ordnance Survey maps
View French rides on live IGN maps
Toggle the map between OS and Google Maps (good for viewing satellite images)
Right-click & save the GPX files for your own use
I've also put up a Search & Upload page to allow visitors to search for their own maps and see their own GPX track files on OS, IGN & Google maps.
| Ride | Description | Miles Total | Miles off road | Climb Feet |
| --- | --- | --- | --- | --- |
| Burford Show Map GPX | Camping in the Cotswolds one weekend and did a cracking ride at six a.m. A great time for seeing all manner of wildlife | 21 | 13 | 1350 |
| Crèvecoeur-en-Brie Show Map GPX | Clockwise. We were camping here during a Disneyland Paris visit. | 18 | 0 | 0 |
| Sérignan Plage Show Map GPX | On holiday in Languedoc-Rousillon. Took a ride to a local nature reserve using farm tracks through vineyards and along the Canal du Midi which stretches from the Med to the Atlantic. | 13 | 5 | 0 |
| Pays de Pézenas Show Map GPX | This was an official French MTB (or VTT as they say) off-road route near Bessilles. Site 138 at VTT-FFC. It was supposed to be 25Km but I ended up doing around 35Km as I kept on missing the signposts! It was graded "difficile", which is to say the 3rd out of 4 ascending difficulty levels, but it wasn't hard, even by Hampshire standards. Stunning views over the fields and vineyards with the Pyrenees forming a beautiful backdrop on the horizon. Memories are made of rides like this. | 22 | 18 | 0 |
| Bath Show Map GPX | Camping at Newton Mill. After looking at the monster hills north west of Bath, I decided to go anti-clockwise and do the tough stuff first. Fabulous views for miles around on the outbound leg with rocks, streams, mud and some amazing tracks. Real MTB hero stuff with an easy run home on tired legs along the old railway just in time for lunch. Perfect morning! | 25 | 16 | 1600 |
| Clumber Park Show Map GPX | Visiting family near Sleaford in Lincolnshire and Clumber Park seemed like the nearest point to get an off-road loop. Very pleasant area, albeit rather flat. I rode anticlockwise to take in the Robin Hood way. Easy going ride with not much excitement, but enjoyable nonetheless as a morning out. | 28 | 22 | 1320 |
| Barbury Castle Show Map GPX | South of Swindon anti-clockwise. The Ridgeway scenery looks to be stunning on a good day, but this wasn't a good day. It rained the whole way round, varying only between light and heavy. Lots of splashing through deep puddles, so we were all totally soaked and cold at the end, and I was getting tired. My co-riders were both a fair bit younger and fitter than me so I was pleased to stay more-or-less in touch despite dropping back on the climbs. Still a good ride with plenty of potential for some fast downhills in better weather. | 24 | 20 | 2120 |
| The Beast at Coed y Brenin Show Map GPX | To Wales for the real deal. Came off good style and gained some impressive the bruises to prove it. Monster adrenaline rush. The site info only makes the climb 2560 feet for some reason, but the GPS (and my legs) reckon almost double that. | 23 | 23 | 5020 |
| Marin Trail at Gwydyr Forest Show Map GPX | Excellent ride. Not so extreme as the Beast but still plenty of fun with even better views, if that's possible. Long initial climb but well worth it. Hampshire will never seem the same after these two amazing rides. Again, my recorded climb was much more than the site info (1476 feet). Maybe they measure in Welsh feet. | 16 | 15 | 1875 |
| Nizas Show Map GPX | Languedoc-Rousillon for summer hollies once again. Site 138 at VTT-FFC once more, but this time the black route from Nizas. Mainly XC with a very nasty rocky descent just when I was thinking it had been over-graded. Got off and walked for that bit, but otherwise top quality ride through vineyard slopes and hot hard-packed hillside with a glorious single track descent. Sunny and very hot, great stuff. | 22 | ? | 1485 |
| La Salvetat Show Map GPX | Site 55 at VTT-FFC. Red route with tough climbs up the hills around the beautiful Lac de la Riviege. Parts of it were on a pilgrim trail footpath, but I got lost near the start and had to backtrack a bit and take the road for a while - I'll take a proper IGN map next time. Views to die for once I had got up the steep lakeside climbs. XC and France at its very best. | 19 | ? | 1610 |
| Standlake Show Map GPX | Camping at Lincoln Farm Park near Oxford with friends so took the oportunity for a ride. What a flat part of the world! Not a classic ride but pleasant enough to keep the legs moving. Most of the local undergrowth had recently been cut back leaving thorns everywhere. This resulted in four punctures. Will try tubeless again before the next ride. | 23 | 16 | 780 |
| Edale Show Map GPX | To the Peak District with the hot crew from MTB Britain who I struggled to keep up with. Did a loop of 14.6 miles from Edale including Jacob's Ladder. This is MTB heaven without a doubt, albeit much tougher than anything else I've tried. Long killer rocky climbs with monster rocky descents, many of which I baled out from. Made the Beast at CyB seem tame. Still, I loved every minute of it! | 15 | 15 | 2990 |
| Horncastle Show Map GPX | Up at Billinghay in Lincolnshire seeing family. Not many bridleways around here, but I found a decent loop north of Horncastle for a Sunday morning blast. Not as flat as I'd expected - a fine ride with good scenery and some decent climbs. Only downside was that it was so muddy & sodden across some fields as to bring progress to a grinding halt. The wheels dug in too deep to pedal. But most of it was on decent trails. I'll try this again in summer when it should be much quicker. | 18 | 12 | 1240 |
| Alderstead Heath Show Map GPX | North East of Reigate. A weekend camping for a trip to Thorpe Park so I sneaked out for an early ride. I was surprised by how much off road I could get this close to London. Much of the North Downs is footpath-only, so I struggled to find a decent loop, but this was most enjoyable. Decent hard pack allowed me to do more mileage than usual without getting tired, and the offroad sections were nicely varied. The only downside was the early morning mist which shrouded the best views. | 30 | 19 | 2300 |
| Dalby Forest Show Map GPX | Camping in York so I tried out the red trail at Dalby Forest. I managed to miss the start point somehow and unwittingly followed the red footpath signs to start with. I soon found myself back at the start and thought that seemed way too easy and short! I soon came to my senses and did the red MTB route. I had to cut out a bit of the north east section (points 19-24) as I was worried about it getting dark. But I covered most of it, and with only a couple of refusals, getting back just as the light was fading. Excellent fun - it was fast, flowing and perfect for my (not very high) skill level. Wish I had rides like that nearer home. | 23 | 23 | 1960 |
| Holmbury Hill and Pitch Hill Show Map GPX | Met with old riding pals. I didn't know stuff like this existed so close to London (other than Swinley Forest). Proper singletrack, good descents, tough climbs and brilliant weather. Couldn't have asked for more! | 15 | 14 | 1980 |
| Alicourts 1 Show Map GPX | Anti-clockwise Loire Valley ride from our campsite. Flat and heavily wooded area. Would have been lost without the GPS as there are virtually no landmarks. | 12 | 11 | 840 |
| Alicourts 2 Show Map GPX | Anti-clockwise as above, but longer. Saw no-one the whole ride, a very quiet area indeed. Did a few miles along the very odd Canal de la Sauldre - a long abandoned canal which goes from nowhere to nowhere as it became defunct before it was completed. All that's left are abandoned locks and wildlife. | 30 | 27 | 1540 |
| BHF London to South Coast Offroad Show Map GPX | My first BHF charity ride. Got a bit lost a few times which caused me to do a lot more road work than I should have done, but it all came good in the end. Fabulous day out, recommended to anyone thinking of doing a long ride for the first time. The track joining the North and South Downs is on a disused railway line which lets you eat the miles in top gear, and the only tough bits are crossing the Downs. Got a great reception on the seafront at the finish. | 75 | 55 | 2775 |
| Sherwood Pines Show Map GPX | Followed a clockwise route. Sherwood Pines is very similar to Swinley Forest - dry twisty trails, no rocky stuff. There were some interesting new trails being developed for jump enthusiasts which were easy to roll. Great Boxing Day morning out, a perfect antidote to Christmas idleness. | 13 | 13 | 1480 |
| London to Brighton road Show Map GPX | OK, not MTB at all, but I did my first and only long road ride to help a friend achieve an ambition: the classic London to Brighton. The two of us set out from Clapham Junction station and hit the Brighton Peace Statue 6.5 hours later with about 1.5 hours of stops - so around 5 hours or so actual riding. I even put road tyres on my Stumpy for the occasion. I must say that I can't really see the appeal of road riding - there's lots of tarmac stretching to the horizon, no break in the regularity of the surface plus large metal objects constantly whistling past your right ear. Still, I'm pleased I did it, and was chuffed to have cleaned all the hills including Ditchling Beacon. One to chalk off the "to do" list! | 57 | 0 | 3290 |
| Brecon Beacons Gap Show Map GPX | Classic ride last done many years ago so time for a re-visit. It rained for most of it so we didn't get much of the dramatic views I recall from last time, but it's still a fabulous ride. The wind and rain at the very top blew us sideways but that was forgotten the minute we got the reward of the long downhill blast. The canal towpath makes for a pleasant start and finish to the tough bits. | 26.7 | 24 | 5942 |